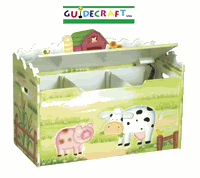 When you have children, you want to do absolutely everything that you possibly can in order to ensure that they grow up with the best values and skills. This will mean everything from the kinds of lessons that they can learn in school to the lessons that only you, as a parent can teach them. Although you might not realize it, a toy box can be much more than a good way to store toys, it is also the perfect way to help teach your children all about values and precious organizational skills that they can take with them into adulthood.
If you give it some thought, a toy box is the perfect tool to help you teach your child that it is best to put away their toys after each and every use. This can also help them to learn how to stay picked up and organized later on in life as well. In addition to that, when you show your children the proper ways to pick up toys and put them away in the toy box where they belong, you are also showing them the best way to keep organized. These skills will be very valuable and will last them a lifetime.
For a child that is in love with animals and the workings of a farm, there is the
Little Farm House
wooden toy box. This is a fun piece of furniture even has helpful dividers that will allow you to store toys in their own compartments. At the same time, the beautiful graphics, complete with farm animals, will help to stimulate young minds and encourage use and play.
Labels: bedroom, boys, childrens-toys, furniture, girls, infants, kids, learning
by: RonJun eShop