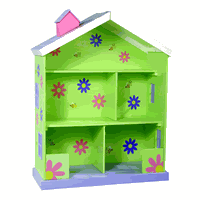 Any parent who finds resistance when asking their child to put their books away should know that they are definitely not alone. While reading books and exploring through the pages of a great chapter book is always a great experience, the thought of putting the book away where it belongs at the end is another story all together. This is why you might want to see about getting your child a bookshelf that will make them want to put away the books each and every time.
While the thought of complete cleanliness and organization may seem like a stretch to most parents, those who have already brought the
My Favorite Things Doll House Bookcase
into their homes know that it can actually happen. Perhaps there is something special about the doll house design of this bookcase that makes it accessible to young children. Either that or they find that putting books away is fun because their new bookcase looks great when it is filled with their favorite books and maybe even a couple of stuffed animals.
Well, no matter what they case may be, this is the kind of furnishing that any parent will be proud to display in their child's room. This colorful, fun piece is made with multiple tiers and dividers for plenty of storage room. Any child is going to adore this bookcase, wanting to place all of their books and trinkets on it in a neat and organized way. With this piece, organization and fun really do go hand in hand.
Labels: bedroom, childrens-toys, furniture, girls, kids
by: RonJun eShop