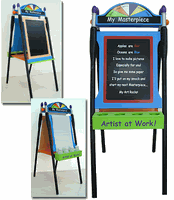 There is something quite special about the kinds of things that can come out of the creativity of a young child's mind. Whether they are playing with some of their favorite educational toys or they are putting together some sort of craft or project, you are going to see an end result that is creative and inspirational. As you begin to notice that your child has a special gift for everything that is artsy in nature, you might want to look into getting him or her a couple of helpful tools that they can use.
The nice thing about a child who is very interested in art and the world of crafting is that you never have to spend a ridiculous amount of money to help them enjoy themselves. A great place to get started down the path to creativity and wonderful projects happens to be the
Kid's Easel-Artist's Easel by Level of Discovery
.
Once you have this fun easel in your home, your child is going to have an amazing opportunity to create just about anything that their little brain can dream up. For any sort of painting, sketch or project, this easel comes with a great replaceable roll of paper as well as four plastic paint containers that can be removed, filled and so on. There is even a nifty storage shelf that your child can use to stash all of their crafty tidbits and supplies.
Creation and imagination definitely go hand in hand, and once your child has this easel, you will see that there will be hours upon hours of creative energy that he or she can enjoy.
Labels: bedroom, boys, childrens-toys, girls, learning
by: RonJun eShop