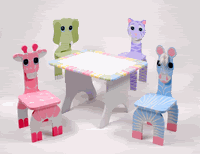 Everyone wants their child's room to be special, decorated just right. Expanding on the main theme you have decided on for the linens can be simple. There are many things you can do to accomplish this, such as painting the walls or adding wallpaper. Just let your imagination take over and the results may surprise you.
You may also want to consider investing in something that can become a family heirloom to possibly be passed down from generation to generation. It does not have to be something extremely fancy or expensive. Something that you have carefully chosen just for your child will probably mean just as much to them when they are older. This special feeling alone makes it worthy of passing along. The actual item is not nearly as important as the sentiment behind it. Therefore, it can be something that is strictly for display or something your child may use on a daily basis.
One possible choice is the
Pastel Jungle Kids Table and Chair set
. This is a beautifully handcrafted set that includes a hand-painted finish, making it obvious that a great deal of time and attention went into making this great set. It is a perfect children's set that includes a table with pastel colors along the edge and pastel animal chairs. This is something that your child can use and enjoy for many years and to possibly one day hand down to their own children, thus creating a wonderfully treasured family heirloom.
Labels: bedroom, boys, furniture, girls, infants, kids, pretend-play
by: RonJun eShop