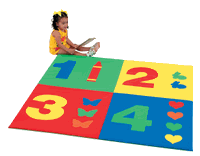 You would be amazed at just how much of an impact that the surrounding environment can have on children while they are learning and exploring through play with others. If you think about it, the more stale and uncomfortable the environment is, children will only have a certain level of creativity and expression. Studies have actually shown that children have a higher level of interaction and creativity when they are placed in a comfortable and stimulating environment.
If you are looking for ways to both brighten up as well as soften up the area that your children play in, you may want to think of the helpful addition of a play mat. With the right play mat, you are sure to see that your child will want to get right down on floor level with their siblings of playmates and fall into a world of play and self-expression.
One play mat that many parents and even day care providers stand by happens to be the
1-2-3-4 Kids Play Activity Mat
. This is a whopping five square feet of fun colors, numbers and shapes that will not only provide a soft floor for kids to play on, but also a marvelous way to stimulate their minds. Soft and hygienic, this play mat is fabulous for giving kids a nice way to play on floor level without becoming uncomfortable after only playing for a little while. Great for any kinds of floor activities, this play mat is a must for the savvy parent as well as the thoughtful day care provider.
Labels: bedroom, boys, childrens-toys, girls, pretend-play
by: RonJun eShop