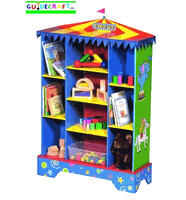 When you have children, it is always nice to see to it that they have a safe and clean room that they can play in. If it happens to be their bedroom that is the main area that they are going to be playing in, you can work right along with them when it comes to cleaning. You would be amazed at the kind of results that you can get when you start by teaching your children all of the good things about cleaning at a very young age.
Young children can learn from you when it comes to finding the best ways to keep their room neat and organized. After all, with the proper places for storage and a good base of cleaning skills, they should be able to keep their room looking wonderful even after they have been playing for a while. As a parent, you simply need to teach them how to sort all of their toys and show them the best ways to keep everything in order and picked up.
If you find that you are running into a lack of space when it comes to some of their books and even some smaller toys, you may actually want to look into the addition of a good bookcase. A bookcase is the perfect piece of furniture to help house a bevy of books along with any other knick knacks that are in need of a home. A fun and colorful option is the
Circus Book Shelf
, which would definitely be a magical addition to any child's room. With plenty of whimsy and a whole lot of cubbies for storage, this is a bookshelf that both parents and kids alike would be proud to have in their home.
Labels: bedroom, boys, furniture, girls, learning
by: RonJun eShop