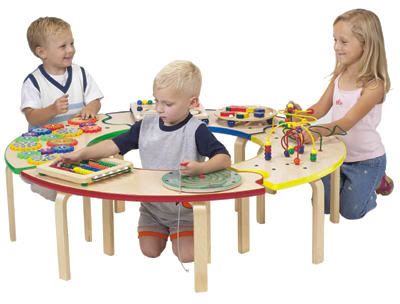 Educating children is a priority among parents and caregivers. While children prefer fun over what they consider "boring stuff". This can sometimes result in a battle of wills, where the adults may win but the kids are anything but receptive to the idea. Thankfully, there are some wonderful compromises.
The
Circle of Fun
is just one of those compromises. Puzzle benches connect together to form this circle of fun. There is something to be said for a toy that encourages learning and pulls together for a "never ending" trail of fun. The circular design helps keep their interest and engage each other as they play with each section in turn.
It can also be separated into four sections allowing for individualized play with multiple kids. There are seven classic toys or games including an Abacus, Pathfinder, Fun Fruits to Match, Magnetic Circle Express, Gear Panel and Sculpture Mazes #'s 1 and 2.
It is amazing to watch how well children tend to get along with a toy such as the Circle of Fun. they can take turns on each section and take turns with the seven different activities. If the need arises, or if you just want to change it up a bit, it can be separated for further fun. It is an amazing activity center toy that guarantees hours of fun for children.
It is a perfect toy for a doctor's waiting room, schools, day care centers or even your home. Round up the kids, set up the Circle of Fun and let the games begin!
Labels: boys, childrens-toys, furniture, girls, learning, pretend-play
by: RonJun eShop